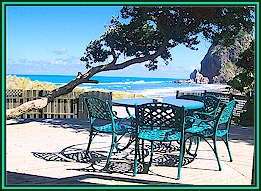 LOCALITY
Accessed through the Waitakere ranges (Auckland's pristine regional water catchment area), Piha is a place of power and beauty, with a long beach of fine black sand and spectacular rugged coastline, and a small, environmentally sensitive community. A mecca for swimmers, surfers and picnickers in summer, in winter it is quite isolated, although surfing and fishing enthusiasts visit year round (with average winter daily maximum temperatures around 15 centigrade (60F); summer around 27 (80F)). There are surfing and local social events throughout the year. Our house adjoins a wild-life sanctuary with bush-walks, the best surfing is straight outside, and patrolled swimming in summer a stone's throw away. Join in, or just relax and watch the world go by from the deck, or the fireside.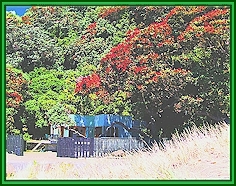 HOUSE
Sunny, sheltered north-west aspect, at the end of South Piha beach. French widows open up the entire front of the house, polished wood floors, large deck. Panoramic beach and ocean views. Grounds sand/grass and mature native bush, frontage fenced. Off road parking.
The house is orientated to the weather: in winter, full sun: leave the doors open and bask in front of the open fire, watching the storms rage over the sea, or sunbathe on the deck or in the sheltered garden. In summer, enjoy the shade of the beautiful pohutukawas whilst overlooking the summer crowds from your front row seat on the deck.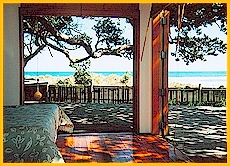 ROOMS
Open plan living/kitchen with 3 double fold-out futon couches. Living room and main bedroom (with queen size bed) face onto beach. Nursery/dressing room with 2 single bunks. Second bedroom with queen bed. The Basement contains a single bed and double/single bunk set (rough sleeping but it's there).
Can sleep up to 15.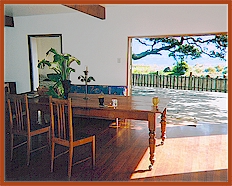 FACILITIES
Telephone, TV (Freeview, NZ satellite TV), DVD, stereo, heated towel rail, jug, toaster, food processor, microwave/grill, gas hob, electric oven/rangehood, fridge/freezer, dishwasher, BBQ, outdoor furniture, open fireplace, washing machine, dryer, hot shower, WC, duvets, crockery, cutlery, cookware. Tea, bodum coffee, and a selection of condiments are provided. (Linen and pillows by request.)
Our house looks out straight onto the best surfing spot in Piha, at the most sheltered end of Piha beach. During swimming season, the safe swimming area patrolled by lifeguards is a stone's throw away. A short walk to the lagoon, the Blue Pool, Kitekite falls and "the Coffin" where children can swim.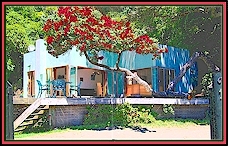 CAVEATS
Un-fenced deck, not recommended for crawlers or toddlers. Rain or delivered water, adequate but not unlimited.
The surf can be dangerous if you don't know the rules. Information provided.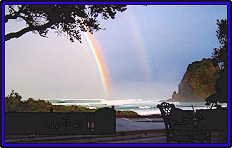 LOCAL FACILITIES
Piha is famous for it's ecological beauty, not for it's night life!. Take a short stroll around the beach to the Piha Cafe and three licensed club/restaurants, and to the art gallery featuring unique original crafts through to works from some of New Zealand's leading artists. There is a general store and a small library with video hire. Surf equipment hire/sale, surf fashions and coffee are available next to the Store and at Mike and Pam Jolly's at 60 Piha Road, where Mike makes surfboards and they have souvenirs. Surfing lessons and Canyoning trips can be arranged. Full shopping facilities are available 20 km away at Henderson or Titirangi. Further afield wineries, arts and fine dining and all the attractions of Auckland.

Our house has been enjoyed by many people, famous and infamous, as a holiday destination since 1999.